TIMING/LENGTH (IN MINUTES): 30'
DESCRIPTION
In the next activity we can learn a little more about the world of second-hand shops.
DEVELOPMENT/ METHODOLOGY
LEARN
RISE OF SECOND-HAND SHOPS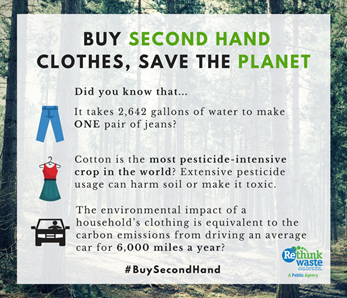 The boom in second-hand shops at this time is due to the growing climate awareness in many people, and also due to the various economic crises in the world.
In fact, thanks in part to second-hand shops, vintage culture has experienced an increase in terms of people following it, as it is very easy to find products from other times in these shops.
While a few years ago, second-hand shops were considered an option aimed at people with low economic resources, they are now an alternative for lovers of other times, for people who move within the vintage culture or people who are looking for an alternative to the culture of mass and immediate consumerism offered by brands and shops.
"Dressing voluntarily second hand suggests distinction, cultural and economic. It satisfies the desire to be different, to get away from the typical consumer and invest time in cultivating originality without the need to use the class or privilege of money", states Le Zotte.
We invite you to read this important article:
Reduce/Re-use/Re-sale: https://luxsecondchance.com/blogs/fashion-news/sustainability-just-a-trend-or-the-new-way-to-shop
watch this video to get some ideas about second-hand shops: https://www.youtube.com/watch?v=eMSTzU8Tu_8 (5'05 minutes)
DO
Write down a piece of furniture or clothes you consider to re-sale.
What will you do with its money?